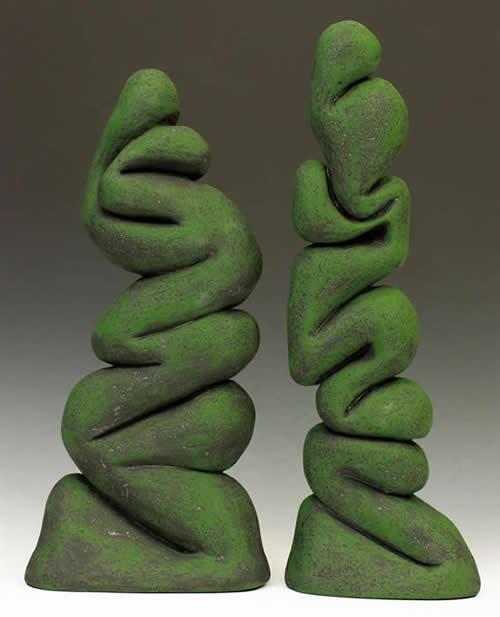 The Conversation
solid–built with standard 380 outdoor sculpture clay fired to cone 5, dark green velvet underglaze with black volcanic ash stain
19.5"H x 15.5"W x 5"D
2017
$1,000

The Conversation continues the exploration that focuses on thematic universal human qualities that both enrich and challenge our lives. My creative process is governed by an intuitive form-based unfolding that is autobiographical in nature using the manipulative quality of clay to express symbolic meaning. This two-part sculpture is a metaphor expressing the innate social need in our lives to initiate a dialogue with others. The use of organic nonobjective biomorphic form affords the viewer the opportunity to personally reflect and uniquely interpret the importance of communication by direct verbal interaction. As the two forms face each other to initiate a conversation, their similarities of shape, form, and color are very evident echoing our own human characteristics that we hold in common, no matter our differing cultural or ethnic backgrounds. It is hoped that this piece will encourage and foster the desire for initiation and continuance of healthy dialogue.