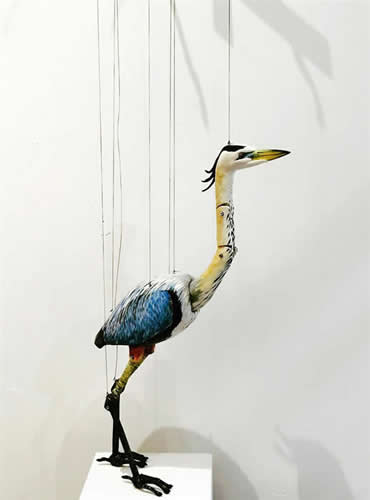 Strings Attached
cone 4 fired paper-clay with underglaze, strings, hardware
36"x 17" x 9"
2016
$1,900

Throughout my career as a ceramic artist, birds have been the predominate theme. They've been depicted in narrative teapots, sculptures and chair form environments. Most recently, the challenge and the desire to give them movement brought me to this marionette form. The blue heron, a favorite, with its graceful gesture and gravity defying form was the perfect subject to 'bring to life'. By articulating and suspending this inanimate ceramic sculpture, the slightest touch, or breeze, gives it a natural oscillation.
I'm drawn to the restorative power of time spent in the peacefulness of the natural world. My goal as a ceramic artist is to call attention to, honor, and respect the importance of habitats and wildlife. I like my work to speak, delight, amuse and surprise. I invite viewers to pause, and find quiet in the rhythm, essence, and detail of the places and creatures represented in my work.