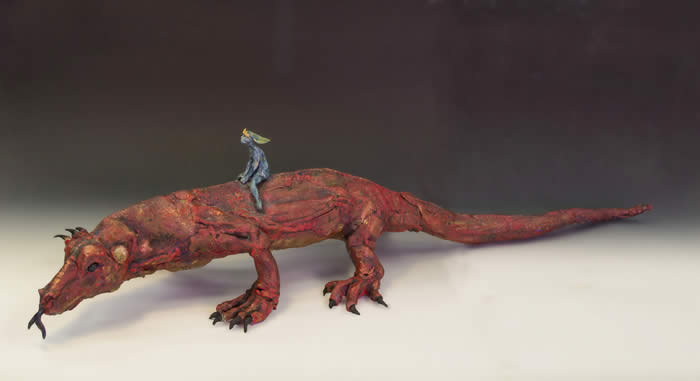 Taming the Beast
paper clay with underglaze, oil paint and wax
42" x 9" x 15"
2017

$650

My art seems to be an infinite journey. When I stop and look at the road I've traveled so far, I can see that each of my works is just a breadcrumb I've left behind - not so much so I can find my way back, as to show where I've been, and where I still need to go.
Currently animals - both real and imagined - are my subject. From quick clay sketches just for the mud pie joy of it, to commentary on the interesting times we live in, they work for me.
I'm beginning to focus on narrative in my work these days. That can mean becoming more introspective - not a place I like to go. Dredging up the past, cleaning out the attic, deciding what's worth keeping and what needs to go on the trash heap is uncomfortable, but in the end, I'm finding it pretty empowering too.
I mean, it's just a big red lizard, right?