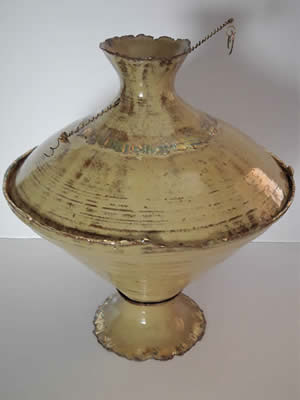 Cit'ron Bud
stoneware, cone 6, mixed media
13" x 11" x 11"
2017

$375

I used my personal belief that human energy explodes as art to create this exhibition piece, Cit'ron Bud.
(French definition of cit'ron: thick-skinned yellow fruit, candied rind).
Each of my art pieces attempts to capture and hold a private episode of mankind's excursion through life. The line and form of each individual vessel illustrates the power and strength given to the walls of our human existence. I see our human walls similar to that of the cit'ron with its thick-skinned rind.

My Visions in Clay 2017 piece, Cit'ron Bud, interior personifies the cradling of our hurts and abrasions within the vessel; providing a safe space for our sensitive self. The raw textured edges, color saturation and golden leafed rim of the Cit'ron Bud symbolize my anticipation of fates' best surrounding us all.
like candied lemon rind– bitter comes with sweet