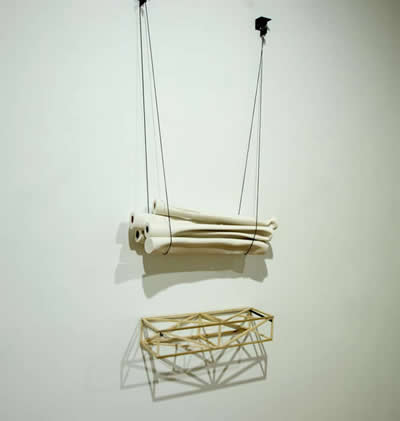 Connection/Disconnect Series, No. 3
slip casting white porcelain, steel, plastic, wood, and tool dip; cone 6 oxidation
72" x 22" x 11"
2017
Work is unavailable due to shipping damage.

Cultivating the spatial relationship in between utility and sculpture generates my process. I deconstruct and reconstruct to assemble objects; bringing to them a new perspective that simplifies the structure while enhancing the surface and the unassuming nature of the forms. The functional purpose of the objects becomes minimized due to the structure beneath the surface and the constructed role of the base blurring distinctions between function and form.

Originally from Hong Kong, I came to study in America years ago, went to school at Iowa Central Community College, in Fort Dodge 2005. I started making ceramics when I was going to school at Iowa Central. Later on I transferred to Northwest Missouri State University to get my bachelor degree in art – ceramics. After I got my bachelor degree, work as a studio Artist for three years at Webster City, Iowa, gave me the opportunity develop my work before I going to graduate school at University of Iowa, Receive my MFA University of Iowa in 2017.