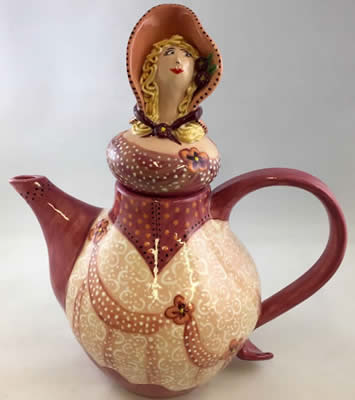 Georgette, A Victorian Lady Teapot
cone 06 wheel thrown and altered stoneware, hand sculpted top. Underglaze paint and food safe glaze
8" h x 7.5" (spout to handle) x 5" diameter
2017

$225
Working in clay keeps me grounded. I am fortunate to have an on-going 50+ year career as an actress. While working on characters, I live mostly in my head. My sanity saver is putting my hands in clay. You can't center clay if you are off-center emotionally.

I love period costumes! There's not much chance to wear them in today's TV or film. I fashion my lady teapots in all the styles I'd love to wear. I don't care for corsets, but I can imagine how it feels to kick the train of the dress aside. I do fancy myself in the hats!
My work on stage becomes memory once a show closes. Sooner or later all my work in TV and film will disappear into the ether. Pottery shards last thousands of years.