Professor and Director Emeritus, Ohio University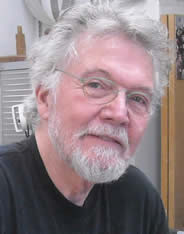 Joe Bova was born in Houston, Texas,
and lives in Santa Fe, New Mexico.
He earned a BFA, the University of Houston,
and an MA, the University of New Mexico.
His work is in many collections, including the
Los Angeles County Museum and Mint Museum,
North Carolina, and he is published in notable books.
Visiting artist/residencies include ICS Kecskemet,
Hungary, University of Georgia, Cortona Italy,
NY State College of Ceramics at Alfred, Penland
School, and Anderson Ranch Arts Center. He is
Professor and Director Emeritus, Ohio University.
A Past President of CECA, he was a Fulbright
Scholar, National College of Art and Design, Dublin,
Ireland in 2011.
Juror's Statement
Ceramics is a cosmopolitan art form. Few cultures in the world lack it. For millennia, developed cultures have valued it. More than 15,000 years ago the ceramic process first became known in Asia. Excepting Australia, every continent's ascendant culture mastered and evolved its particular signature ceramics style. Depending on time and place it might be vessel, architectural, figurative, or purely abstract sculpture. Today ceramics is a ubiquitous inter-national art form, with myriad styles often invasive
of national and cultural boundaries. In our society
this can be seen in the diversity of contemporary American ceramic art, and the lack of any signature style.
Fairness is a hallmark of a just society. The world of Art, however, is neither just nor fair. In judging art works, fairness is nigh impossible, when the differences between works are extreme. In ceramics today, the unifying element is rarely more than the process – the transformation of earth materials by high heat to a hard crystalline form. The other high heat, figuratively speaking, in art especially, is content. Artists' personal vision, and freedom of expression, shapes their investigation into whatever issues they choose to confront, and is the hallmark of art today. Consider Ai Weiwei.
An open call exhibition like Visions in Clay, where the prospectus states, "Entry is open to all artists residing in the United States. Ceramic works of any thematic and stylistic presentation will be accepted for entry" invites a range of work from the amateurish and DIY to the best professional efforts. These best efforts include an expected range of widely divergent works, from traditional vessels to figurative sculpture to installation, all with concomitant multiplicities of content.
In distilling the exhibition down to the 49 pieces ultimately chosen, my basic question was does this deserve to be seen and could it make a difference to the students at San Joaquin Delta College, who, in the context of a provincial art exhibition, are the most important audience from my point of view. I encourage the viewers, especially students, to look further than the work before them in this exhibition. The Internet is a vast resource.
Two of the three prizewinners are artists investigating the human figure, yet in content are very far apart. The third is a visual poem disguised as a vessel.
Christine Golden's work of erotic ecstasy evokes more than its explicit imagery reveals. A thoughtful viewer might consider the content of this work against the emergence of psychology in the 20th Century – or even the 19th - and the role it has played in great works of art contemporarily. Art exists in a cultural continuity and Golden's work might be sourced from dream or experience, both or neither, but it is a work squarely of its time.
Pathos is the dominant evocation in Charlene Doiron's work. She has used facial expression to engage the viewer's emotional responses. Of the three artistic/literary/rhetoric devices, ethos, logos and pathos, it is my opinion that pathos resonates the most with the viewer. It elicits empathetic responses and stirs the viewer's imagination to examine their own experiences and to identify with the work before them. Doiron's work is an excellent example of the power of quiet work.
Tony Martin wins for synthesizing a vessel format with playful narrative and bits and pieces of the natural world (plant, animal). He puts popular glaze effects, i.e "lichen," to thoughtful use, not solely for their own sake. I imagine Bernard Palissy is looking over his shoulder, nodding with approval.

I believe I selected an exhibition representing the best of the work submitted. There were close calls on both inclusion and the determination of prizes. There always are when multiple pieces are excellent yet both similar and divergent. It is not easy to receive a rejection. I know; I have had my share. But perseverance furthers. Acceptance and rejection may not always be fair, but excellence eventually prevails.
I thank Jan Marlese, Gallery Director of the LH Horton Jr Gallery at San Joaquin Delta College, for the invitation to judge Visions in Clay. It has been a professional pleasure to work with her.